Cheeseburger Pizza
By
Paula Deen
JUMP TO RECIPE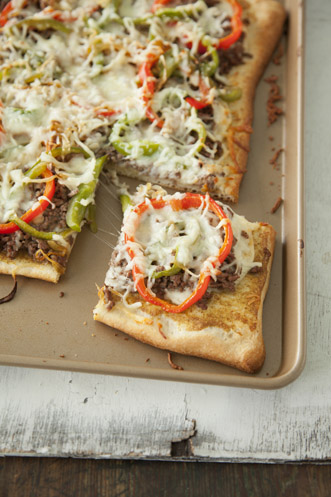 Difficulty: Easy
Prep time: 15 minutes
Cook time: 25 minutes
Servings: 4-6
Ingredients
1 (16 oz) package refrigerated pizza crust dough
1 cut into rings green bell pepper
1 cut into rings red bell pepper
1/2 thinly sliced onion
1 lb extra-lean ground beef
2 tablespoons spicy brown mustard
8 slices provolone
1 1/2 cups shredded mozzarella
1 teaspoon steak seasoning
Directions
Preheat the oven to 450 °F. Let the pizza dough rest according to package directions.
Press the dough into a 16-inch pizza pan or a rimmed baking sheet. Bake for 5 minutes.
In a large skillet, combine the bell peppers and onions. Cook over medium heat until the vegetables are tender, about 8 minutes. Remove from the heat. Next, add the ground beef and cook until crumbly and brown. Remove from the heat and drain well.
Spread the mustard over the pizza crust. Top with the provolone, beef mixture and mozzarella. Sprinkle with the Montreal steak seasoning. Bake until the crust is browned and the cheese melts, about 10 minutes. Cut into wedges to serve.