Scallop and Bacon Pizza
By
Paula Deen
JUMP TO RECIPE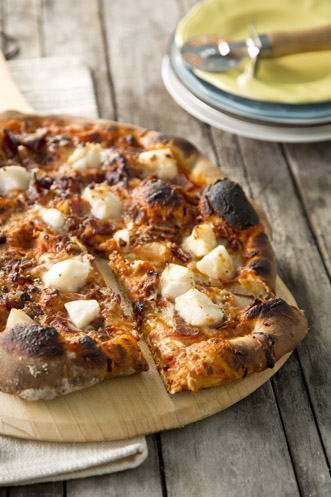 Difficulty: Easy
Prep time: 12 minutes
Cook time: 12 minutes
Servings: 12
Ingredients
8 oz pre-made pizza dough
for dusting pizza stone cornmeal
1 cup store bought or homemade marinara sauce
1 cup sour cream
1/2 lb cut into small dice and cooked until brown bacon
1 1/2 cups mozzarella
1 1/2 cups grated Parmesan
6 large cut into quarters or eighths, depending on size scallops
Directions
Preheat oven to 350 °F.
Roll out the pizza dough into a 12-inch circle. Roll the edges inward to create a ridge around the pizza. Place the pizza dough on a pizza stone that has been dusted with cornmeal.
In a small bowl, stir together the marinara sauce and the sour cream until it is thoroughly combined. Spread the sauce evenly over the crust. Sprinkle the bacon evenly over the sauce. Combine the mozzarella with the Parmesan and sprinkle them evenly over the bacon. Top the cheese with the scallops, which should be distributed evenly over the surface of the pizza.
Bake the pizza for 16 to 18 minutes until the cheese is bubbly and the scallops are cooked.