Diver Scallops with Bacon & Whole Grain Mustard Rub
By
Paula Deen
JUMP TO RECIPE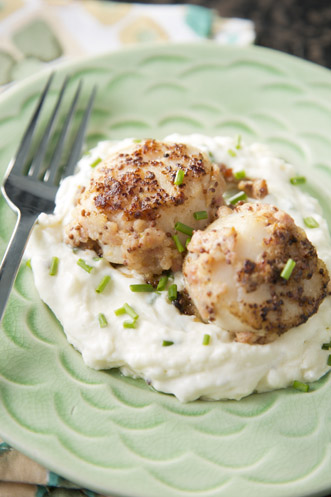 Difficulty: Medium
Prep time: 29 hours
Cook time: 60 minutes
Servings: 8
Ingredients
Diver Scallops with Bacon & Whole Grain Mustard Rub
16 scallops, U10 dry pack preferred
3 tablespoons whole grain mustard
4 slices smoked bacon
Creme Fraiche Mashed Potatoes
1 cup heavy cream, plus 2 tablespoons
3/4 cup sour cream
2 lb small red potatoes
1 teaspoon salt
1 (8-oz) package cream cheese, room temperature
2 teaspoons roasted garlic
1 teaspoon Paula Deen's House Seasoning
1 teaspoon Paula Deen Seasoned Salt
4 tablespoons unsalted butter
1/4 cup green onions, sliced
1 tablespoon fresh chives, chopped
Directions
Diver Scallops with Bacon & Whole Grain Mustard Rub
Preheat oven to 350 °F.
Cut the bacon in quarters and put it and the and mustard in a food processor and puree until a smooth paste consistency. Coat scallops with puree. Using a frying pan, sear the scallops in a little oil. Place scallops in the oven and bake for 8 to 10 minutes. Remove scallops and allow to rest for 2 minutes before serving. Place creme fraiche mashed potatoes on each of 4 plates and top each with 4 scallops.
Creme Fraiche Mashed Potatoes
Prepare the creme fraiche ahead of time by combining 1 cup of the heavy cream with 1/2 cup of the sour cream, cover with plastic wrap and let stand at room temperature for 12 to 24 hours. Stir well and refrigerate for 4 hours.
Place the potatoes in a pot, cover with cold water, and add salt. Bring to a boil and cook potatoes for 20 to 25 minutes, and drain. With an electric mixer, beat the potatoes with the cream cheese, the remaining sour cream, and 2 tablespoons of heavy cream, garlic, house seasoning, and seasoned salt. Stir in the butter and onions. Place the mashed potatoes in a lightly greased 2-quart round casserole, spoon the creme fraiche on top, and sprinkle with chives. Bake until potatoes are hot, approximately 20 to 30 minutes.