Air Fryer Buffalo Chicken Livers with Blue Cheese Dipping Sauce
By
Paula Deen
JUMP TO RECIPE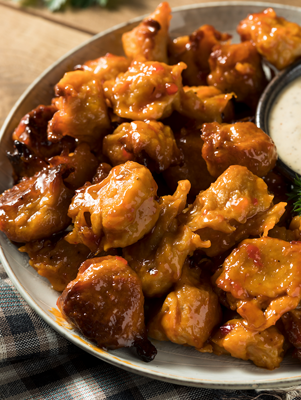 Featured in:
Paula Deen's Air Fryer Cookbook
Difficulty: Medium
Prep time: 20 minutes
Cook time: 8 minutes
Servings: 4
Ingredients
1 cup (2 sticks) butter
½ cup Paula Deen Hot Sauce
1 cup all-purpose flour
1 teaspoon salt
½ teaspoon paprika
½ teaspoon garlic powder
½ teaspoon cayenne pepper
½ teaspoon black pepper
1 pound chicken livers, soaked in milk
oil, for spraying
1 cup blue cheese dressing
4 ounces blue cheese crumbled
Directions
To make buffalo sauce, in a small saucepan, heat butter and The Lady & Sons Signature Hot Sauce until butter is just melted; keep warm until ready to use.
In a ziplock or paper bag, combine flour, salt, paprika, garlic powder, cayenne pepper, and black pepper. Place chicken livers in bag and shake gently until coated.
Working in batches of 10, spray each chicken liver with oil and place in air fryer basket. Do not overcrowd. Set temperature to 400 degrees, and air fry for 4 minutes. Turn livers, spray with oil, and air fry for 4 minutes more, or until golden brown. Transfer buffalo sauce to a large mixing bowl; in batches, immediately toss fried chicken livers in warm buffalo sauce. Repeat with remaining chicken livers.
To make dipping sauce, in a small bowl, stir together blue cheese dressing and crumbled  blue cheese.