Deen Brothers
Jamie Deen is an entrepreneur, businessman, author and son of American cooking and lifestyle icon Paula Deen. Jamie and his brother, Bobby, have been featured on several Food Network shows throughout the years. Along with his mother and Bobby, he owns the famed restaurant The Lady & Sons in Savannah, GA. Jamie has written four books with his brother and published Good Food in 2013 solo. Today, he lives with his wife, Brooke, and their three children in Savannah.
Bobby Deen has long been an essential ingredient in the recipe that has made his mother Paula Deen an American cooking icon. Bobby's show, Not My Mama's Meals, currently airs on the Cooking Channel. He also hosted Holiday Baking Championship, as well as Spring Baking Championship, on the Food Network, where eight pastry-savvy chefs participated in a seasonal baking competition with the hopes of winning a sweet spot in the hearts of judges. In addition, Bobby co-hosted two popular shows, Cooking Channel's Junk Food Flip with Nikki Dinki, as well as Food Network's Southern Fried Road Trip with his brother, Jamie Deen.  Bobby, along with his mother and brother Jamie, own The Lady & Sons in Savannah, GA. He has written two books on his own: New York Times #1 Bestseller "From Mama's Table to Mine" in 2013 and "Everyday Eats" in 2014. In 2019, he welcomed triplets with his wife, Claudia.
---
---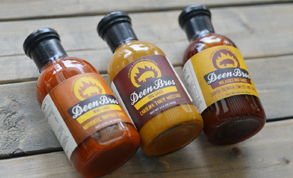 Sauces, Spices & Rubs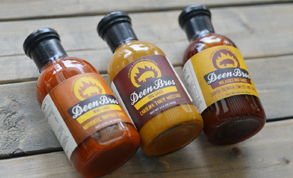 Everyone could use a little extra flavor in life. So kick up your recipes with the Deen Brothers collection of sauces, spices, and rubs!
Shop Now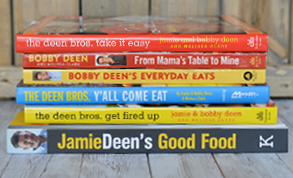 Cookbooks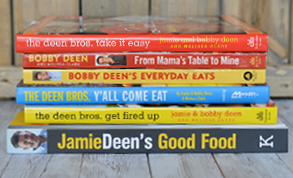 Jamie & Bobby Deen, have collectively written seven cookbooks, including Bobby's #1 New York Times Bestseller, From Mama's Table to Mine.
Shop Now