Naked Hot Air Fryer Southern Chicken Wings
By
Paula Deen
JUMP TO RECIPE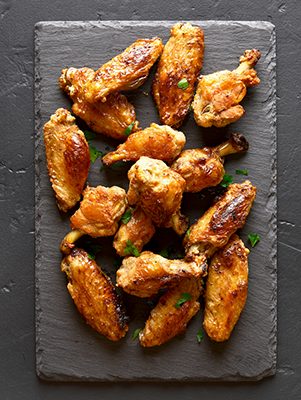 Paula Deen's Air Fryer Southern Chicken Wings Recipe is the perfect southern comfort food for tailgating, guys night, or any get-together. Plus, cut back on fat
Show more
Paula Deen's Air Fryer Southern Chicken Wings Recipe is the perfect southern comfort food for tailgating, guys night, or any get-together. Plus, cut back on fat and calories by cooking them in your air fryer.
Difficulty: Easy
Prep time: 10 minutes
Cook time: 25 minutes
Servings: 4
Ingredients
½ cup (1 stick) butter
⅓ cup Paula Deen Hot Sauce
2 pounds chicken wings, each wing cut at joint to yield wingette and drumette
2 tablespoons peanut oil
1 teaspoon Kosher salt
⅛ teaspoon cayenne pepper
oil, for spraying
Directions
To make buffalo sauce, in a small saucepan over medium heat, combine butter and The Lady & Sons Signature Hot Sauce and heat just until butter melts; keep warm on stovetop. Wash wings, pat dry, and place in a large bowl. Add peanut oil, salt, and cayenne pepper and toss to thoroughly coat wings.
Working in batches of 8, place wings in air fryer basket. Set temperature to 400 degrees, and air fry for 25 minutes. Shake occasionally, spraying with oil once during cooking. Repeat with remaining chicken.
In a large bowl, toss fried chicken in buffalo sauce, and remove with a slotted spoon to a serving dish.