Air Fryer Coconut-Fried Shrimp with Dipping Sauce
By
Paula Deen
JUMP TO RECIPE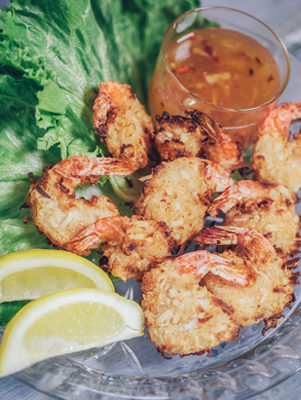 Featured in:
Paula Deen's Air Fryer Cookbook
Difficulty: Easy
Prep time: 20 minutes
Cook time: 20 minutes
Servings: 4 to 6
Ingredients
Coconut-Fried Shrimp
½ cup all-purpose flour
1 teaspoon salt
½ teaspoon baking powder
⅔ cup water
2 cups shredded sweetened coconut
½ cup breadcrumbs
1 pound medium or large shrimp, peeled and deveined
oil, for spraying
Dipping Sauce
½ teaspoon crushed red pepper flakes
4 teaspoons rice wine vinegar
½ cup orange marmalade
Directions
Coconut-Fried Shrimp
In a large bowl, whisk together, flour, salt, and baking powder. Add water and whisk until smooth. Let batter stand for 15 minutes. In a shallow bowl, toss together coconut and breadcrumbs. Place shrimp in batter and coat well. Remove shrimp, one at a time, and press into coconut mixture. Coat well.
Spray shrimp on all sides with oil and place in air fryer basket in a single layer. Set temperature to 400 degrees, and air fry for 5 minutes. Turn shrimp, spray with oil, and air fry for 5 minutes more. Repeat with remaining shrimp.
Dipping Sauce
For the dipping sauce, in a medium saucepan, combine red pepper flakes, vinegar, and marmalade and simmer on low heat for 10 minutes, stirring occasionally.