Air-Fried Asparagus with Herbed Lemon Aioli
By
Paula Deen
JUMP TO RECIPE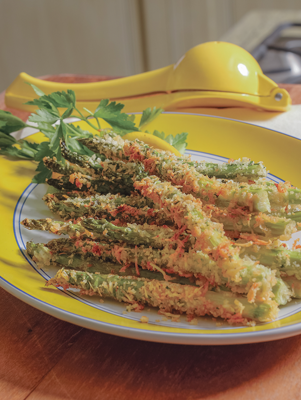 Featured in:
Paula Deen's Air Fryer Cookbook
Difficulty: Easy
Prep time: 10 minutes
Cook time: 12 minutes
Servings: 4
Ingredients
Air-Fried Asparagus
2 egg whites
1 cup panko breadcrumbs
½ cup Parmesan cheese
½ teaspoon dried basil
¼ teaspoon cayenne pepper
1 pound asparagus, trimmed
oil, for spraying
Herbed Lemon Aioli
½ cup mayonnaise
1 lemon, juiced
½ tablespoon chopped fresh thyme
½ tablespoon chopped rosemary
¼ teaspoon garlic powder
Directions
Air-Fried Asparagus
In a small bowl, lightly beat egg whites. In another small bowl, combine breadcrumbs, Parmesan cheese, basil, and cayenne pepper. Dip asparagus spears in beaten egg whites, then roll in breadcrumb mixture.
Working in batches of 10, spray asparagus with oil and place in air fryer basket. Do not overcrowd. Set temperature to 400 degrees, and air fry for 6 minutes. Repeat with remaining spears. Serve warm with Herbed Lemon Aioli on the side.
Herbed Lemon Aioli
In a small bowl, combine mayonnaise, lemon juice, thyme, rosemary, and garlic powder. Chill, covered, until ready to use.