Salmon Burgers
By
Paula Deen
JUMP TO RECIPE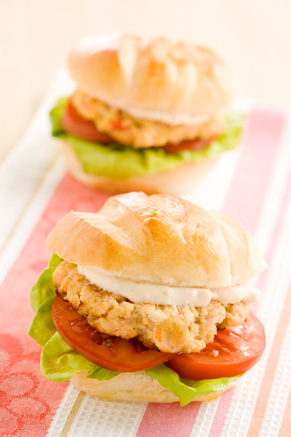 Difficulty: Easy
Prep time: 15 minutes
Cook time: 15 minutes
Servings: 15
Ingredients
1/2 cup diced red bell pepper
1/2 cup diced yellow bell pepper
3/4 cup panko
4 cloves minced and divided garlic
2 lb skinned and finely chopped salmon fillets
1 large lightly beaten egg
1 tablespoon plus 1 teaspoon soy sauce
1 teaspoon fresh lemon juice
1/2 teaspoon salt
8 buttered and toasted sandwich buns
8 lettuce leaves
8 slices tomato
1 cup mayonnaise
1/2 teaspoon sesame oil
Directions
In a medium bowl, combine peppers, panko, 2 cloves garlic and salmon.
In a small bowl, combine egg, 1 tablespoon soy sauce, lemon juice and salt; add to pepper mixture, tossing gently to combine. Form mixture into 8 patties.
Lightly coat a grill pan or skillet with cooking spray. Heat over medium-high heat until hot. Grill or cook patties, 5 minutes per side, or until desired degree of doneness. Spread Sesame Mayonnaise evenly over toasted buns. Top each with a lettuce leaf, tomato slice and salmon patty. Cover with tops of buns.
Sesame Mayonnaise:
In a small bowl, combine mayo, 2 cloves garlic, 1 teaspoon soy sauce and sesame oil. Cover and chill.
Yields: 1 cup