Salmon Burgers with Sun-Dried Tomato Mayonnaise
By
Paula Deen
JUMP TO RECIPE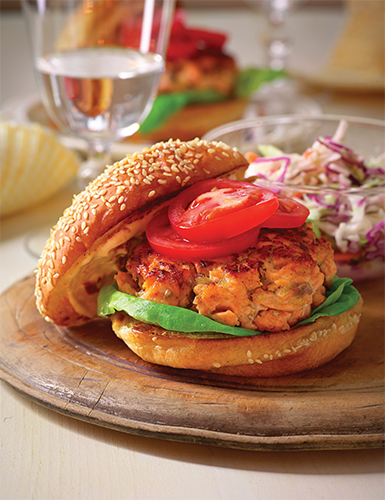 Difficulty: Medium
Ingredients
1/4 cup regular or light mayonnaise
1 tablespoon coarsely chopped oil-packed sun-dried tomatoes
1 teaspoon lemon juice
2 dashes hot sauce
1 1/2 lbs finely chopped skinless salmon fillets
1/4 cup whole-wheat or regular panko bread crumbs
1 tablespoon sweet pickle relish
1 tablespoon dijon mustard
3/4 teaspoon or to taste salt
1/2 teaspoon or to taste freshly ground black pepper
4 split hamburger buns
4 for serving lettuce leaves
4 for serving tomato slices
Directions
In a blender or food processor, puree the mayonnaise, sun-dried tomatoes, lemon juice, and hot sauce until nearly smooth (flecks of tomato will remain). Place in a small bowl and refrigerate until you're ready to use the tomato mayonnaise.
In a medium bowl, combine the salmon, bread crumbs, relish, mustard, salt, and pepper. Mix gently and shape into 4 patties.
Lightly grease a large nonstick skillet with cooking spray. Preheat over medium-high heat. Add the burgers, and cook for 3 minutes on each side for medium. If you would like them more well done, reduce the heat to medium so they do not burn.
Spread one of the cut sides of the buns with a little of the sun-dried tomato mayonnaise mixture. Place the burgers on the buns. top with the lettuce and tomatoes and sandwich with the other bun halves.