Air Fryer Fried Green Tomatoes with Vidalia Onion Relish
By
Paula Deen
JUMP TO RECIPE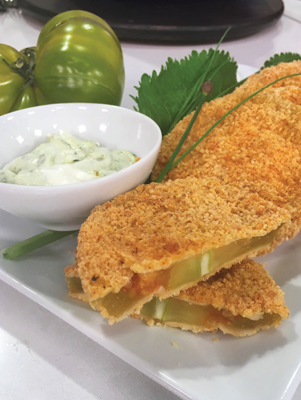 Featured in:
Paula Deen's Air Fryer Cookbook
Difficulty: Easy
Prep time: 2 hours
Cook time: 10 minutes
Servings: 4
Ingredients
Vidalia Onion Relish
2 Vidalia onions
½ cup mayonnaise
½ cup rice wine vinegar
2 tablespoons brown sugar
2 tablespoons fresh chives, chopped
Fried Green Tomatoes
1 large firm green tomato
salt
1 cup buttermilk
¼ cup all-purpose flour
¾ cup panko bread crumbs
black pepper , to taste
oil, for spraying
Directions
Vidalia Onion Relish
For the relish, in a medium bowl, mix onions, mayonnaise, rice wine vinegar, brown sugar and chives. Cover with plastic wrap and marinade for at least 2 hours.
Fried Green Tomatoes
For the fried tomatoes, using a mandolin, cut tomato into ¼ inch thick slices. Lay tomato slices in a shallow pan and sprinkle with salt. Place tomato slices in a colander and allow time for salt to pull out water, approximately 30 minutes. Place buttermilk in a shallow bowl. In a shallow dish, mix flour, bread crumbs, and pepper. Dip tomatoes in buttermilk, then dredge in flour mixture.
Line air fryer basket with parchment paper. Working in batches of 4, spray both sides of tomato slices with oil and place in air fryer basket. Set temperature to 400 degrees, and air fry for 5 minutes. Turn slices, spray with oil and air fry for 5 minutes more. Set aside tomato slices and keep warm. Repeat with remaining tomato slices. Serve hot with relish on the side.