Air Fryer Cannoli
By
Paula Deen
JUMP TO RECIPE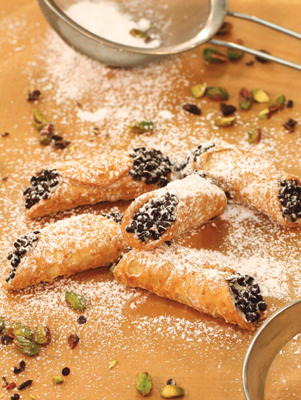 Featured in:
Paula Deen's Air Fryer Cookbook
Difficulty: Medium
Prep time: 15 minutes
Cook time: 28 minutes
Servings: 12
Ingredients
2/3 cup heavy cream
1/3 cup powdered sugar, plus more for dusting
1 cup ricotta cheese
3 tablespoons amaretto
1 teaspoon ground cinnamon
1/4 cup unsalted chopped pistachios
3 (8 x 10-inch or larger) fresh pasta sheets
oil, for spraying
1/2 cup miniature semisweet chocolate chips
Directions
In a food processor, whip cream while slowly adding powdered sugar until soft peaks form. Place ricotta cheese in a large bowl, and whisk in amaretto and cinnamon. Stir half of the whipped cream into ricotta cheese mixture. Gently fold in remaining whipped cream, and then gently fold in pistachios. Fill a pastry bag with no tip with ricotta cheese mixture.
Cut pasta sheets into twelve 4-inch circles. Spray cannoli forms with oil, then wrap pasta sheets around forms. Seal edges together with water-dipped fingertips.
Working in batches of 4, place cannoli forms in air fryer and spray with oil. Set air fryer temperature to 400 degrees, and air fry for 2 minutes more. Remove cannoli forms from air fryer, and using tongs, slide out forms while cannoli shells are still hot. Repeat with remaining pasta circles. If reusing forms, allow to cool before preparing each batch.
Pipe filling into air-fried cannoli shells just up to the edges. Dip each end of cannoli into miniature chocolate chips and dust with powdered sugar before serving.