Dulce De Leche Coffee
By
Paula Deen
JUMP TO RECIPE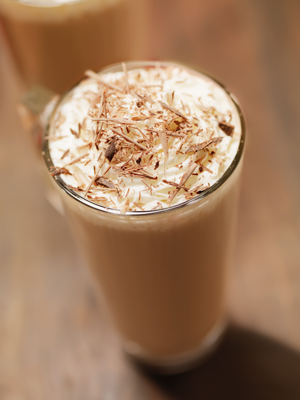 Difficulty: Easy
Prep time: 10 minutes
Servings: 4
Ingredients
6 oz fluid dulce de leche (See Cook's Note)
4 cups strongly brewed coffee
1 cup heavy cream
2 tablespoons sugar
6 tablespoons chocolate, grated
Directions
Cook's Note: Dulce de leche is sold in the Hispanic aisle of supermarkets, or in Hispanic specialty markets. It is sold in solid 15-ounce blocks, or in cans or bottles in more of a liquid form. You can also find recipes for making your own dulce de leche using sweetened condensed milk.
Add the dulce de leche to the very hot coffee; stir until dissolved and combined. Keep hot.
Combine the cream with the sugar and whip until stiff. Divide the coffee/dulche de leche mixture among six glasses. Top with a heaping tablespoon of whipped cream and grated chocolate.