Caramel Apple-Nut Crumb Pie
By
Deen Brothers
JUMP TO RECIPE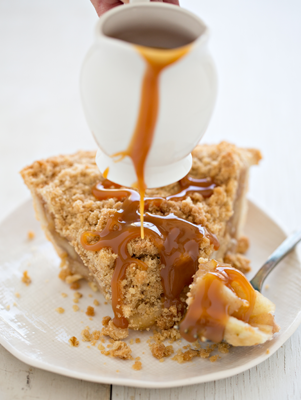 Featured in:
The Deen Bros. Recipes from the Road
Difficulty: Easy
Prep time: 45 minutes
Cook time: 1 hour
Servings: 8
Ingredients
1/2 cup sour cream
3/4 cup warm dulce de leche
1 egg plus 1 egg yolk
1/4 cup granulated sugar
2 tablespoons all-purpose flour
1 teaspoon vanilla
1 teaspoon freshly squeezed lemon juice
1/2 teaspoon ground cinnamon
1/4 teaspoon ground nutmeg
1/4 teaspoon salt
4 Granny Smith apples
1 prepared 9-inch graham cracker crust*
1/2 cup 1 stick cold unsalted butter
1/2 cup packed light brown sugar
1 cup all-purpose flour
1/4 teaspoon ground nutmeg
1/3 cup finely chopped walnuts
Directions
Preheat oven to 400°F. Whisk together the sour cream, 1/2 cup dulce de leche, and remaining fi lling ingredients except the apples. Fold in the apples. Spread the remaining 1/4 cup dulce de leche on the bottom of the unbaked crust. Pour the apple mixture into piecrust. Bake for 30 minutes.
Meanwhile, in the bowl of an electric mixer, beat the butter, brown sugar, 1 cup fl our, and 1/4 teaspoon nutmeg on low speed until the flour is moistened but still crumbly. (Do not overmix.) With a fork, gently fold the chopped walnuts into the topping mixture.
Sprinkle the partially baked pie with the topping. Return the pie to the oven. Bake about 30 minutes more or until the top is golden brown. Drizzle the pie with additional dulce de leche. Let pie cool completely on a wire rack before slicing.
*The piecrust will be very full. Use a deep pie plate.