Chimichurri Steaks
By
Deen Brothers
JUMP TO RECIPE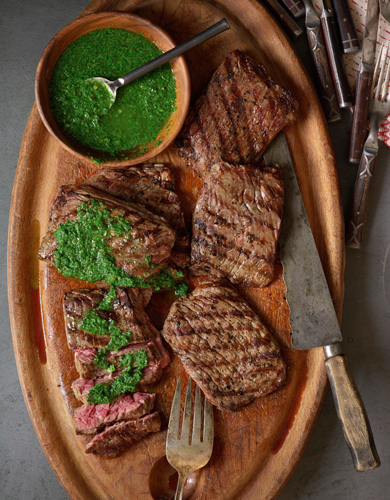 Featured in:
Bobby Deen's Everyday Eats
Chimichurri is a mouthwateringly delicious sauce made from fresh herbs, garlic, vinegar and oil. It originated in Argentina, where they use it on their meat of
Show more
Difficulty: Easy
Prep time: 30 minutes
Cook time: 10 minutes
Servings: 6
Ingredients
1/4 cup fresh parsley leaves
3 tablespoons olive oil
1 tablespoon red wine vinegar
1 tablespoon fresh oregano
3 coursely chopped garlic cloves
A pinch of crushed red pepper flakes
salt and freshly ground black pepper
1 1/2 pounds (cut into 6 equal pieces) skirt steak
Directions
1. In a blender or small food processor, combine the parsley, oil, vinegar, oregano, garlic, and red pepper flakes, and blend to a coarse puree. Season to taste with salt and pepper. Rub half of the marinade on the small steaks and place the remainder in a small bowl.
2. Grease a grill grate with cooking spray, and preheat the grill to medium-high heat (steaks will marinate while the grill heats).
3. Grill the steaks for 3 to 5 minutes per side or until the internal temperature reaches 120 * F on an insteant- read thermometer for medium-rate (or a few minutes longer, until the temperature reaches 130* F, for medium). Let the meat rest for about 5 minutes before serving it with the served bowl of chimichurri on the side.