Cheeseburger Meatloaf and Sauce
By
Paula Deen
JUMP TO RECIPE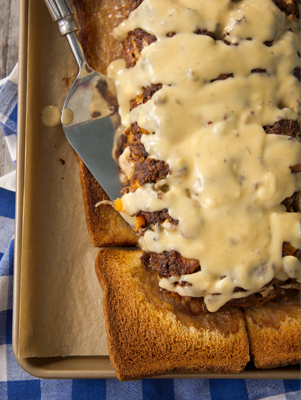 Difficulty: Easy
Prep time: 20 minutes
Cook time: 45 minutes
Servings: 6 to 8
Ingredients
Cheeseburger Meatloaf
2 pounds ground beef
2 teaspoon Paula Deen's House Seasoning
1 teaspoon Paula Deen's Seasoned Salt
1 medium onion, chopped, plus more for garnish
1 medium bell pepper, chopped
1 cup shredded cheddar cheese
1 cup crushed buttery crackers
1 cup sour cream
¼ cup Worcestershire sauce
8 slices white bread
1 bunch fresh parsley, optional, for garnish
Sauce
1 (10 ¾-ounce) can condensed cream of mushroom soup
½ soup-can measure of milk
1 ½ cups shredded cheddar cheese
Directions
Cheeseburger Meatloaf
Preheat oven to 350 °F. In a large bowl, combine the beef, House Seasoning, Lawry's salt, onion, bell pepper, Cheddar, cracker crumbs, sour cream, and Worcestershire sauce. Use your hands and make sure you mix the ingredients really well so they are thoroughly combined. Shape into a loaf about 8 by 3 inches.
Line a rimmed baking sheet with the bread slices and place the loaf on top. Bake the loaf until well browned, 45 minutes to 1 hour. Remove from the oven and discard the bread slices.
Meanwhile, make the sauce.
Slice the meatloaf and serve topped with the sauce or pass the sauce at the table. You can add chopped onions and parsley to the sauce, if you like.
Sauce
In a medium saucepan, heat the soup and milk over medium heat. Add the Cheddar and stir until the cheese is melted.