Chicken Burgers With Rainbow Sesame Slaw
By
Paula Deen
JUMP TO RECIPE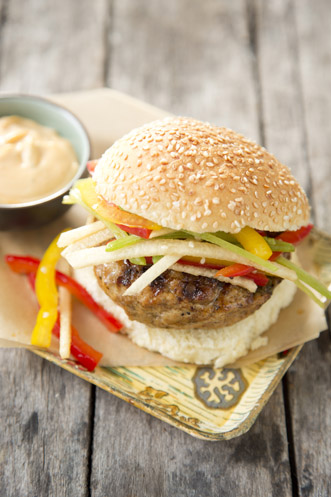 Difficulty: Easy
Prep time: 25 minutes
Cook time: 10 minutes
Servings: 6
Ingredients
2/3 cup julienned jicama
2/3 cup julienned (red, orange, yellow or any combination) bell peppers
2/3 cup strings removed and julienned snow peas
1 1/2 tablespoons rice wine vinegar
2 tablespoons divided sesame oil
1 tablespoon toasted sesame seeds
1 tablespoon soy sauce
3 tablespoons divided sugar
3/4 cup mayonnaise
2 tablespoons Sriracha sauce
1 zested and juiced lime
2 lbs ground chicken
1/3 cup sliced on the bias scallions
1 tablespoon minced lemongrass stalk
6 cloves minced garlic
1 tablespoon vegetable oil
6 tablespoons hoisin sauce
6 with sesame seeds hamburger buns
6 tablespoons softened butter
Directions
For the rainbow sesame slaw: Combine the jicama, bell peppers, snow peas, rice wine vinegar, 1 tablespoon sesame oil, sesame seeds, soy sauce and 1 tablespoon sugar in a medium mixing bowl, tossing to combine. Set aside.
For the Sriracha lime mayo: Combine the mayonnaise, Sriracha, lime zest and juice in a small bowl. Set aside.
For the burger patties: Combine the chicken, scallions, soy sauce, 2 tablespoons sugar, 1 tablespoon sesame oil, lemongrass and garlic, gently mixing to incorporate. Divide the mixture into 6 patties and set aside. Heat a grill pan over medium-high heat, and brush with the vegetable oil. Place the patties on the grill and cook, turning once until done, 6 to 8 minutes per side. During the last few minutes of cooking, baste each burger with 1 tablespoon hoisin sauce.
To assemble, spread about 1 tablespoon of the Sriracha lime mayo on each bun bottom and top. Place the patties on the bun bottoms, top with about 1/3 cup of the slaw, add the bun top and enjoy! These burgers are great served with sweet potato fries or sweet potato chips.