Bobby's Lighter Chicken Creole Burgers with Bayou Mayo
By
Deen Brothers
JUMP TO RECIPE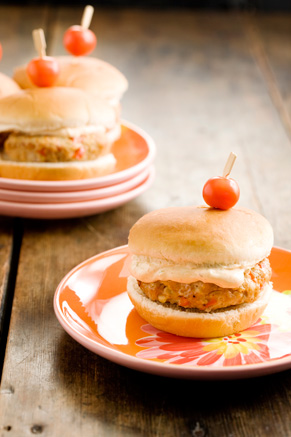 Difficulty: Easy
Prep time: 15 min
Cook time: 15 min
Servings: 4 servings
Ingredients
2 teaspoons olive oil
1 small Vidalia onion
1/4 pound mushrooms
1/2 red
1 celery rib
2 garlic cloves
1 pound ground chicken breast
1/2 teaspoon Paula Deen Creole Pepper Blend or other creole seasoning
4 whole-wheat hamburger buns
1/2 cup light mayonnaise
1 tablespoon chopped fresh chives
1 teaspoon lemon juice
1/4 teaspoon Paula Deen Creole Pepper Blend or other creole seasoning
Directions
Heat the oil in a large nonstick skillet over medium-high heat. Add the onion, mushrooms, bell pepper, celery, and garlic. Cook, stirring occasionally, until the vegetables are very tender, about 8 min. Remove from heat; transfer to a large bowl. Let cool 5 minutes.
Add the chicken and pepper blend to the onion mixture, stirring well to combine. Shape into 4 (3-inch round) patties.
Spray a nonstick ridged grill pan with nonstick spray and set over medium heat. Add the patties and cook, turning occasionally, until an instant-read thermometer inserted into the side of a burger registers 165°F, 6 – 7 minutes on each side.
Meanwhile, to make the Bayou Mayo, combine the mayonnaise, chives, lemon juice, and pepper blend. Serve the burgers in the buns topped with the Bayou Mayo.