Aunt Peggy's Sweet Potato Souffle
By
Paula Deen
JUMP TO RECIPE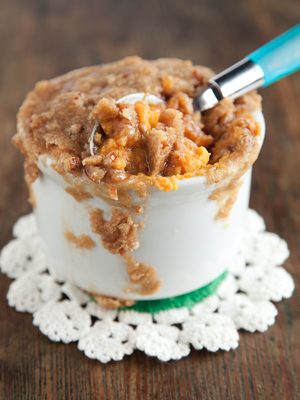 Difficulty: Easy
Prep time: 15 minutes
Cook time: 20 to 25 minutes
Servings: 10
Ingredients
3 cups cooked and mashed (from about 2 to 3 small baked potatoes) sweet potatoes
1 cup granulated sugar
3 beaten eggs
1/2 cup milk
12 tablespoons divided unsalted butter
1 tablespoon vanilla extract
1/2 teaspoon salt
1 cup packed light brown sugar
1/2 cup self-rising cake flour
1 cup chopped pecans
Directions
Souffle: Preheat the oven to 400 °F. Lightly grease an 8-inch square baking dish.
In a large bowl, combine the sweet potatoes, sugar, eggs, milk, 8 tablespoons of melted butter, vanilla and salt. Pour the mixture into the prepared baking dish.
Topping: Combine the brown sugar, 4 tablespoons of butter cubed at room temperature, flour, and pecans in a separate bowl. Crumble the topping over the sweet potato mixture.
Bake for 20 to 25 minutes, until the topping is golden brown. Serve hot.