Aunt Peggy's Cheesecake with Praline Topping
By
Paula Deen
JUMP TO RECIPE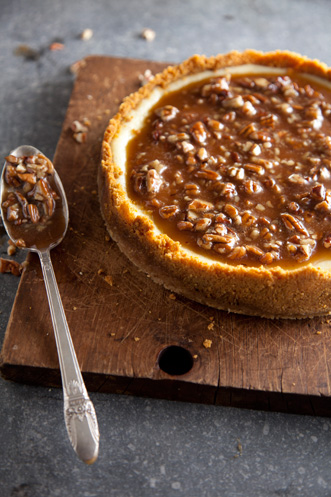 Difficulty: Medium
Prep time: 15 minutes
Cook time: 35 to 45 minutes
Servings: 8
Ingredients
1/2 cup melted butter
1 1/2 cups graham cracker crumbs
1 cup plus 1 tablespoon for crust sugar
2 (8 oz) packages softened cream cheese
3 eggs
2 teaspoons divided vanilla extract
2 tablespoons light brown sugar
2 tablespoons cornstarch
1 cup dark corn syrup
1/2 cup chopped pecans
Directions
Preheat the oven to 350 °F.
Crust:
In a medium bowl combine the butter, crumbs, and sugar 1 tablespoon until well blended. Press into the bottom and 1-inch up the sides of a 9-inch springform pan, using the back of a large spoon.
Filling:
In a large bowl, using a hand mixer, beat the cream cheese, 1 cup sugar, eggs, and 1 teaspoon vanilla until creamy. Pour into the prepared crust and bake for 35 to 45 minutes. Be sure the center is firm before removing the cheesecake from the oven. Remove the pan from the oven to a rack and allow it to cool completely. Release the springform and transfer the cake to a platter to serve.
Praline Topping:
In a small heavy saucepan, stir together the brown sugar and cornstarch. Stir in the corn syrup and cook over medium heat, stirring constantly, until thick. Remove the pan from the heat and stir in nuts and 1 teaspoon vanilla. Cool slightly.
Ladle the praline topping over the cooled cheesecake and serve. Store any leftovers in the refrigerator.