Aunt Peggy's Orange Glazed Ham Steak
By
Paula Deen
JUMP TO RECIPE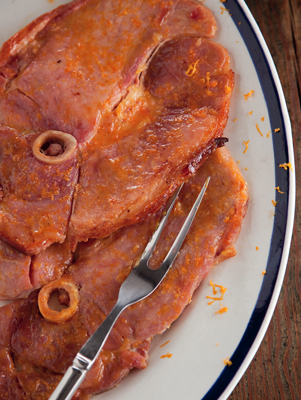 Difficulty: Easy
Prep time: 10 minutes
Cook time: 1 hour
Servings: 6
Ingredients
1/4 cup sugar
1 tablespoon plus 1 teaspoon cornstarch
2 tablespoons boiling water
1/4 cup orange juice
Finely grated zest of 2 oranges
2 (1 lb, 1/2 inch thick) ham steaks
Directions
Preheat the oven to 350 °F.
In a small bowl, whisk together the sugar, cornstarch and boiling water until the granules dissolve. Whisk in the orange zest and juice.
Put the ham steaks in a large baking dish. Pour half of the glaze over the meat, turning once to coat them evenly. Bake for 1 hour, flipping the steaks occasionally and basting them with the remaining glaze. The glaze will thicken and the finished ham will be golden around the edges. Remove from the oven and transfer the steaks to a serving platter. Serve hot.