'Ol No. 7 Yams
By
Paula Deen
JUMP TO RECIPE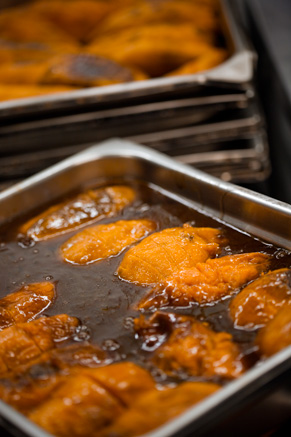 Difficulty: Medium
Prep time: 10 minutes
Cook time: 10 minutes
Servings: 10
Ingredients
1 long strip orange peel, sliced
1/3 cup bourbon -
1/4 teaspoon freshly grated nutmeg -
1 3 to 4 inch cinnamon stick -
4 tablespoons butter -
1 cup brown sugar -
3 cups water -
4 large sweet potatoes -
Directions
Wash and dry sweet potatoes and bake at 400 °F for one hour, until potatoes are soft to the touch. Remove from the oven and let cool slightly then remove skin from potatoes.
Reduce oven temperature to 350 °F. While the potatoes are baking, combine remaining ingredients in a saucepan. Bring to a boil, then reduce the heat and simmer for 30 to 45 minutes until sauce is slightly thickened.
Slice the potatoes 1/2-inch thick into a medium casserole dish. Pour syrup over them and return to the oven and bake for approximately 30 minutes.
Tip: To make this dish faster, bake potatoes the night before, leave skin on and throw in the refrigerator until ready to use.