Raspberry Fig Preserves
By
Paula Deen
JUMP TO RECIPE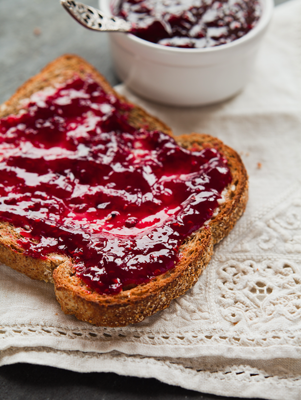 Difficulty: Hard
Prep time: 5 minutes
Cook time: 5 minutes
Servings: 20
Ingredients
3 cups ripe figs, mashed
3 cups sugar
2 (3-oz) packages raspberry gelatin
Directions
Mix all ingredients together in saucepan and cook 4 minutes at rolling boil. Stir frequently. Skim with a strainer. Pour into sterilized jars; seal.
Tips on Sterilizing Jars
Properly-handled sterilized equipment will keep canned foods in good condition for years. Sterilizing jars is the first step of preserving foods.
Sterilizing Tips:
Jars should be made from glass and free of any chips or cracks. Preserving or canning jars are topped with a glass, plastic, or metal lid, which has a rubber seal. Two piece lids are best for canning, as they vacuum seal when processed.
To sterilize jars, before filling with jams, pickles, or preserves, wash jars and lids with hot, soapy water. Rinse well and arrange jars and lids open sides up, without touching, on a tray. Leave in a preheated 175 °F oven for 25 minutes. Or, boil the jars and lids in a large saucepan, covered with water, for 15 minutes.
Use tongs when handling the hot sterilized jars, to move them from either boiling water or the oven. Be sure the tongs are sterilized too, by dipping the ends in boiling water for a few minutes.
As a rule, hot preserves go into hot jars and cold preserves go into cold jars. All items used in the process of making jams, jellies and preserves must be clean. This includes any towels used, and especially your hands.
After the jars are sterilized, you can preserve the food. It is important to follow any canning and processing instructions included in the recipe and refer to USDA guidelines about the sterilization of canned products.
Makes 8 (1/2 pint) jars.