Nana's Blueberry Muffins
By
Paula Deen
JUMP TO RECIPE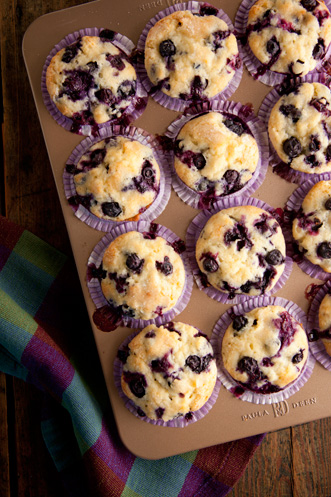 Difficulty: Easy
Prep time: 15 minutes
Cook time: 30 minutes
Servings: 12
Ingredients
1/2 cup butter, at room temperature
1 1/4 cups sugar, plus 2 teaspoons, divided
2 eggs
2 cups all purpose flour
2 teaspoons baking powder
1/2 teaspoon salt
1/2 cup milk
2 1/2 cups fresh blueberries
Directions
Preheat oven to 350 °F. Line a 12 cup muffin tin with paper liners and set aside.
In a large mixing bowl, beat butter and 1 1/4 cups sugar until fluffy and pale in color. Add in eggs one at a time, beating well after each addition.
In a separate mixing bowl, sift together flour, baking powder and salt. Add the flour mixture to the butter mixture alternating with the milk until well incorporated and being careful not to over mix. Gently fold in the fresh blueberries.
Scoop batter into the paper lined muffin tin and sprinkle the tops with the remaining 2 teaspoons sugar. Bake for 25-30 minutes or until puffy and golden brown.