Roasted Turkey
By
Paula Deen
JUMP TO RECIPE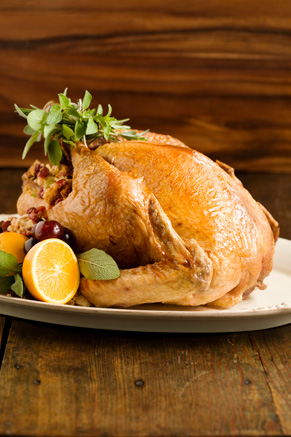 Difficulty: Easy
Prep time: 20 minutes
Cook time: 195 minutes
Servings: 18
Ingredients
1 1/2 teaspoons kosher salt
1/2 teaspoon plus 1/8 teaspoon pepper
1 (12-14-lb) turkey, thawed if frozen
1 onion, quartered
1 head garlic, halved crosswise
2 teaspoons fresh herbs, chopped, such as thyme, parsley, rosemary, and sage
2 bay leaves
1/2 cup unsalted butter, melted
1 (14 1/2-oz) can chicken broth
1/4 cup cornstarch
1/3 cup water
Directions
Preheat oven to 325 °F. Sprinkle 1/2 teaspoon kosher salt and 1/4 teaspoon black pepper inside turkey cavity. Place onion, garlic, herb sprigs and bay leaves insides cavity. Place turkey breast-side up on rack in large roasting pan. Brush with half of butter; sprinkle with 1/4 teaspoon pepper and remaining salt. Truss, if desired.
Tent turkey with foil, roast 2 hours, 30 minutes. Remove foil, brush with remaining butter. Increase oven temperature to 425 °F. Roast turkey until meat thermometer inserted into thickest part of thigh away from bone registers 180 °F, about 45 minutes, tenting with foil during last 15 minutes of cooking time, if browning too quickly. Let stand 15 minutes before carving.
Meanwhile, skim and discard fat from pan juices. Place roasting pan with 1 1/2 cups juices over medium heat. Add broth, chopped thyme, and remaining pepper, stirring up browned bits from bottom of the pan. Simmer 3 minutes.
Stir together cornstarch and 1/3 cup water. Strain gravy into small pot over low heat, gradually whisk in cornstarch mixture. Simmer stirring, until thickened, 2 minutes.