Green Bean Casserole
By
Paula Deen
JUMP TO RECIPE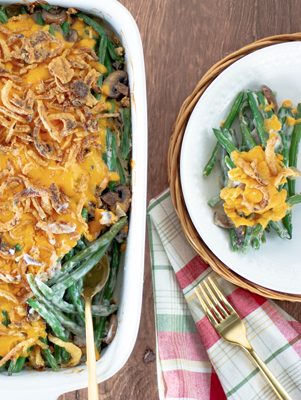 This easy Southern Green Bean Casserole Recipe from Paula Deen is a traditional side dish perfect for Thanksgiving. Ingredients include green beans, mushrooms, french fried onion
Show more
This easy Southern Green Bean Casserole Recipe from Paula Deen is a traditional side dish perfect for Thanksgiving. Ingredients include green beans, mushrooms, french fried onion rings and cream of mushroom soup. Prep time is about 5 minutes and cooking time is 5 minutes at 350 °F.
Difficulty: Easy
Prep time: 10 minutes
Cook time: 30 minutes
Servings: 6
Ingredients
1 pinch Paula Deen's House Seasoning
1 (2.8 oz) can French-fried onion rings
1 (10 3/4 oz) can cream of mushroom soup
3 cups chicken broth
2 cups sliced green beans
1/2 cup sliced fresh mushrooms
1/2 cup diced onions
1/3 stick butter
1 cup grated cheddar cheese
Directions
Preheat the oven to 350 °F. Melt the butter in a large skillet. Sauté the onions and mushrooms in the butter. Boil green beans in chicken broth for 10 minutes and drain. Add the green beans, mushroom soup, onion rings and House Seasoning to taste. Stir well. Pour into a greased 1 1/2-quart baking dish. Bake for 20 minutes, then top the casserole with the Cheddar and bake for 10 minutes longer, or until the casserole is hot and cheese is melted.