Roasted Turkey with Fried Pecan-Bourbon Glaze
By
Paula Deen
JUMP TO RECIPE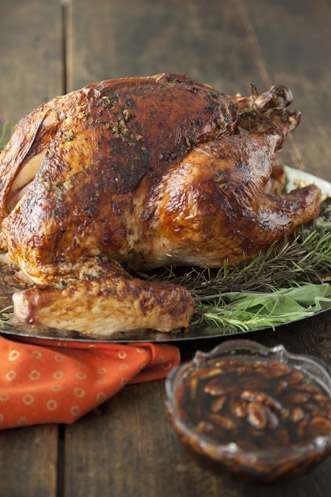 Difficulty: Easy
Prep time: 25 minutes
Cook time: 215 minutes
Servings: 12
Ingredients
Roasted Turkey
4 tablespoons butter, softened
1 tablespoon Paula Deen's House Seasoning
2 tablespoons fresh parsley, chopped
2 tablespoons shallots, minced
2 teaspoons garlic, minced
1 (12-lb) turkey
Fried Pecan-Bourbon Glaze
2 sticks butter, softened
2 cups pecan halves
1 cup brown sugar
1/2 cup molasses
1/2 cup honey
1/2 cup bourbon
Directions
Roasted Turkey
Preheat oven to 375º.
In a small mixing bowl combine 4 tablespoons butter, House Seasoning, parsley, shallots and garlic.
Thoroughly rinse and dry the turkey well. Tuck the wings underneath the body and place the turkey in a roasting pan. Rub the butter mixture all over the turkey. Stuff, if desired. Roast for 18 minutes per pound (including stuffing weight, if using). The turkey is done when an instant-read thermometer inserted into the thickest part of the thigh and deep into the stuffing registers 165º and the juices run clear. Remove from the oven and loosely tent with foil. Let rest for 20 minutes before carving.
Fried Pecan-Bourbon Glaze
Melt the 2 sticks of butter in a skillet over medium heat. When the butter just begins to bubble, stir in the pecan halves. Let the pecan halves gently fry in the butter until they take on a lightly toasted color. Then add the sugar, molasses and honey and stir until the sugar melts. Pour in the bourbon, raise the heat and bring to a boil. Lower the heat and simmer for 5 minutes until the glaze is smooth, except for the pecans, of course, and syrupy.
Let the glaze cool slightly and then pour it over the roasted turkey. Serve any extra glaze in the side at the table.