Turkey / Chicken Stuffing
By
Paula Deen
JUMP TO RECIPE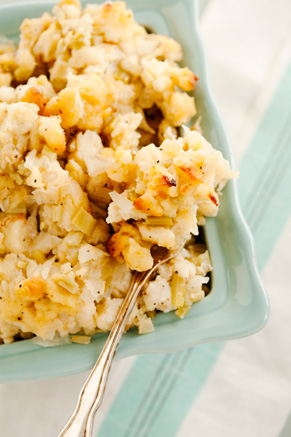 Difficulty: Easy
Prep time: 15 minutes
Cook time: 15 minutes
Servings: 15
Ingredients
1 loaf fresh (3 for a turkey) white bread
1 small bunch diced (2 with turkey) celery
1 large diced (3 for turkey) onion
2 large (up to 8 for turkey) eggs
1 large pinch salt
1/4 teaspoon freshly cracked black pepper
1/2 lb (add 1/2 lb for turkey) unsalted butter
1/4 to 1/2 cup (optional) fresh turkey stock
Directions
Preheat oven to 350º (if cooking in loaf pan)
In large stockpot, melt butter. Stir in chopped onions, salt and pepper and cook until onions are translucent.
Add celery and cook over low heat until just tender. Tear loaf of bread into pieces and add to stockpot with onion mixture and toss well until mixed.
Turn off heat and allow to cool, 15 to 20 minutes.
Crack eggs into mixture and use hands to toss well. Make sure the mixture is wet. Add more eggs if needed.
Pack cooled mixture tightly if stuffing a bird. A loaf pan can be used. After packing dressing into loaf pan pierce with a knife and pour chicken or turkey stock over dressing 1/4 to 1/2 cup per loaf pan.
Bake at 350º for 30 minutes.
Notes from Paula's test kitchen: This dressing works well in a loaf pan. We found the dressing much more flavorful if you took the time to separate the oil from the stock before adding to the pan. We also added 2 tablespoons of chopped fresh rosemary to kick up the flavor. Serves 6 in loaf pan and 12 for turkey.