Good Old Country Stuffing
By
Paula Deen
JUMP TO RECIPE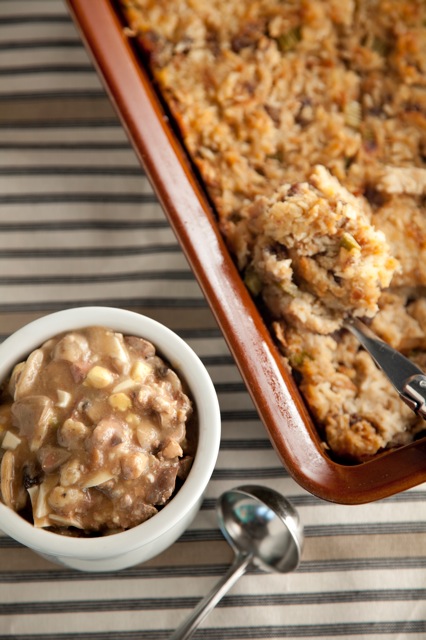 Difficulty: Medium
Prep time: 10 minutes
Cook time: 10 minutes
Servings: 10
Ingredients
2 loaves dry white bread
2 cups cooked white rice
1 sleeve crushed saltine crackers
1 lb bulk breakfast sausage
2 cups chopped celery
1 large chopped onion
11 cups divided (or turkey stock) chicken stock
1 tablespoon poultry seasoning
1 teaspoon dried sage leaves
3 beaten eggs
1/4 stick plus 3 tablespoons butter
from one turkey turkey giblets
2 chicken bouillon cubes
3 tablespoons cornstarch
1/3 cup cold water
2 pints sliced button mushrooms
1 hard boiled sliced egg
Directions
Preheat oven to 350 °F.
Crumble dried white bread into a large bowl. Add cooked white rice and crushed saltines. Sauté pork sausage. Add celery and onion and sauté until transparent – 5 to 10 minutes. Pour over bread and rice mixture. Add stock – mix, add salt, pepper, sage and poultry seasoning. Add 3 beaten eggs and mix well. Reserve 2 tablespoons of mix for gravy. Add slices of 1/4 stick of butter on top. Pour into greased pan and bake until done – 45 minutes.
Mushroom Giblet Gravy:
Bring stock and giblets to a boil. Add bouillon and 2 tablespoons reserved stuffing mixture. Make a slurry by whisking together the cornstarch and water and add to the boiling stock; cook 2 to 3 minutes. Meanwhile, sauté mushrooms until browned in 3 tablespoons butter. Add mushrooms to gravy with egg and salt and pepper, to taste.