Bacon and Pecan Stuffing
By
Damon Lee Fowler
JUMP TO RECIPE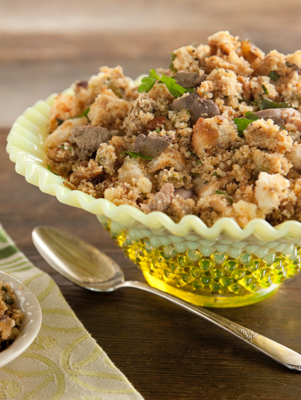 Difficulty: Easy
Prep time: 45 minutes
Cook time: 45 minutes
Servings: Makes about 7½ cups, enough for a 12-pound turkey
Ingredients
4 cups (firmly packed) diced day-old firm homestyle bread (crust and all)
4 cups day-old skillet cornbread, crumbled
8 slices bacon, diced
1 cup chopped yellow onion (about 1 medium)
1 cup chopped celery
1 cup toasted and roughly broken pecans
½ cup minced parsley
2 tablespoons chopped fresh sage or 2 teaspoons crumbled dried sage
2 tablespoons chopped fresh thyme or 2 teaspoons crumbled dried thyme
1 to 1½ cups turkey broth, made from neck and giblets
salt
whole black pepper in a peppermill
whole nutmeg in a grater
2-3 tablespoons butter, cut into bits
Directions
Position racks in the upper and lower third of the oven and preheat to 225 degrees F. Spread the bread and cornbread on large, rimmed baking sheets and bake until almost dry. Meanwhile, sauté the bacon in large skillet or sauté pan over medium heat until browned. Spoon off all but 2 tablespoons of the drippings, add the onion and celery, and sauté, tossing, until golden but not browned, about 5 minutes. Turn off the heat.
Toss together the bread and pecans in large mixing bowl until mixed. Add the onion, celery, and herbs and moisten well with broth, but don't make soggy. Season liberally with salt, pepper, and nutmeg, toss to mix, and if made ahead, cover and refrigerate. Let it sit at room temperature for thirty minutes before proceeding.
If using this to stuff the turkey, put it in the skillet in which onions cooked (or use 2 if you don't have one large enough). Turn on the heat to medium heat and heat thoroughly, tossing. Spoon it loosely into the turkey while hot. Truss it as usual and roast the bird at once. Do not stuff it ahead and let it sit or refrigerate it.
If baking it separately as dressing, position a rack in the center of oven and preheat it to 350° F. (I put it in the oven when the turkey comes out, so that it bakes while the bird rests.) Lightly butter a 9" by 13" baking pan or dish that will hold all the dressing in a single 1-inch-deep layer. Pour in the dressing and pat flat. Dot the top with butter and bake until the center is set and the top golden brown, about 45 minutes.
Cook's Note: Save some of the bacon drippings to rub into the turkey skin for extra crispiness and flavor.