Big Mike Burger
By
Paula Deen
JUMP TO RECIPE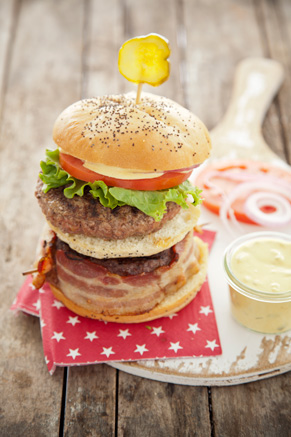 Difficulty: Medium
Prep time: 25 minutes
Cook time: 30 minutes
Servings: 6
Ingredients
3 lbs divided ground beef
6 slices bacon
1/2 cup chopped pecans
3 tablespoons chopped fresh parsley
2 tablespoons grated plus 6 slices for burgers onion
4 tablespoons softened, plus 4 tablespoons cut into small cubes butter
4 oz cut into 6 portions American cheese
1 cup mayonnaise
1/2 cup yellow mustard
1/4 cup ketchup
Paula Deen's Hot Sauce
2 tablespoons finely chopped pickled jalapeño peppers
12 hamburger buns
6 leaves lettuce
6 slices tomato
Directions
Patty #1:
Pecan Burger:
Preheat broiler or grill. Divide 11/2 lbs ground beef into 12 flat patties. Partially sauté bacon – the fat should start rendering, but it shouldn't be crispy. Drain bacon. Mix pecans, parsley, onion and 4 tablespoons softened butter together. Spread mixture on 6 of the patties. Top with remaining 6 patties and seal the edges with the partially sautéed bacon and secure with a wooden toothpick. Broil or grill 10 to 15 minutes, or until cooked to desired doneness, turning once.
Patty #2:
Butter Burger:
Salt and pepper the beef, to taste. Mix remaining 1 1/2 lbs beef and cubed butter together with your hands and form 6 balls. Push a piece of American cheese into the center of each ball. Mold ground beef around the cheese in the shape of a patty. Cook on hot grill or in skillet to desired doneness.
Special Sauce for the Big Mike:
Stir mayonnaise, mustard, ketchup, hot sauce and jalapeños together until well blended.
To Serve:
Place 1 pecan burger on a bottom piece of 6 buns. Top with another bottom piece of bun and the butter burger. Top with sauce, lettuce, tomato, onion and a top piece of the bun. Discard or save for another use the remaining 6 top bun pieces.