Herb-Rubbed Grilled Pork Tenderloin
By
Deen Brothers
JUMP TO RECIPE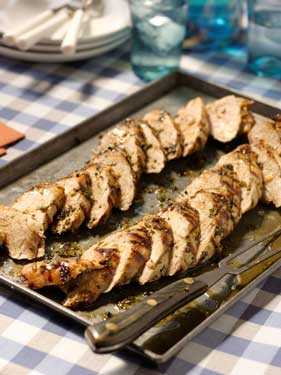 Featured in:
The Deen Bros. Get Fired Up
Difficulty: Easy
Servings: 4 to 6
Ingredients
2 large garlic cloves
2 teaspoons salt
1/4 cup olive oil
1 1/2 tablespoons red wine vinegar
2 tablespoons chopped fresh sage
2 tablespoons finely chopped fresh rosemary
2 tablespoons chopped fresh thyme
2 1/2 teaspoons freshly ground black pepper
2 1-pound pork tenderloins
Directions
Using a mortar and pestle or the flat side of a knife, mash the garlic with 1 teaspoon of the salt until it forms a paste.
Transfer the garlic paste to a small bowl. Whisk in the olive oil, vinegar, sage, rosemary, thyme, pepper and the remaining 1 teaspoon salt.
Smear the mixture all over the pork. Transfer the pork to a bowl. Cover tightly with plastic wrap and refrigerate for at least 1 hour or overnight. Let come to room temperature before grilling.
Preheat the grill to medium-high heat, and brush the grate with oil or spray with nonstick cooking spray.
Transfer the pork to the grill. Close the cover and cook, turning once, until a dark golden crust forms on the pork and the meat is just cooked through, 7 to 9 minutes per side.
Let the pork rest on a cutting board for 5 minutes before slicing and serving.
TIP: If you want to be sure a big piece of meat like a port tenderloin is perfectly cooked through and nice and juicy – and you don't much care about the char – try this fail-safe method. Wrap the meat in aluminum foil and prick the foil all over to let the heat in and some of the steam out. Then grill as usual. This way, you can get a little of that smoky taste, all the convenience and easy cleanup of grilling, but less of the superdark, unpredictable char that can make grilling a larger cut tricky.