The Lady and Sons Lasagna
By
Paula Deen
JUMP TO RECIPE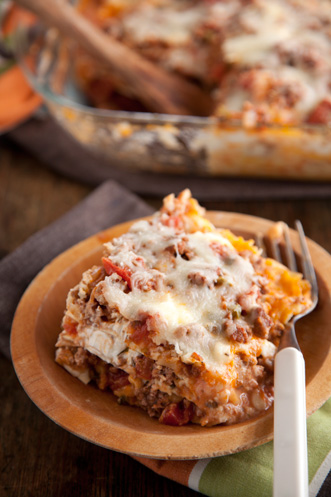 Difficulty: Medium
Prep time: 20 minutes
Cook time: 20 minutes
Servings: 20
Ingredients
1 cup grated Gruyere cheese
12 ounces cottage cheese, mixed with 1 beaten egg and 1/2 cup Parmesan
6 to 9 long strips lasagna noodles
1 1/2 lbs ground beef
2 bay leaves
1 1/2 teaspoons sugar
1 1/2 teaspoons Paula Deen's Seasoned Salt
1 1/2 teaspoons Paula Deen's House Seasoning
1 1/2 teaspoons Paula Deen's Sweet Italian Herb Blend
1/4 cup chopped fresh parsley
1/2 cup diced green bell peppers
2 cloves diced garlic
1/2 cup diced onions
1 cup water
2 cups tomato sauce
2 cups diced tomatoes
1 cup grated Swiss cheese
2 cups grated cheddar cheese
1 (8 oz) package cream cheese
1 cup grated mozzarella
1 tablespoon optional corn starch
1/4 cup optional cold water
Directions
To make the sauce, combine the tomatoes, tomato sauce, water, onions, peppers, garlic, parsley, seasoning mixtures, sugar and bay leaves in a stockpot. Bring to a boil, then reduce the heat and simmer, covered, for 1 hour. Crumble the ground beef in a saucepan. Cook until no pink remains, then drain off the fat. Add the ground beef to the stockpot. Simmer for another 20 minutes. While the sauce simmers, cook the pasta according to the package directions. (If sauce is too thin, for your taste, you can thicken it up at this time by mixing 1 tablespoon of cornstarch and a 1/4 of a cup of cold water. Bring sauce back to a boil. Stir in cornstarch mixture, stirring constantly). Remove bay leaves.
Preheat oven to 350 °F.
To assemble lasagna, place a thin layer of sauce in the bottom of a 9 by 13 by 2-inch pan. Layer 1/3 of each, noodles, cottage cheese mixture, Gruyere, Swiss and cheddar cheeses. Pinch off small pieces of cream cheese and dot over other cheeses. Add another layer of sauce. Repeat layering 2 to 3 times, ending with sauce. This may be covered and refrigerated. Bake for 20 minutes. Remove from oven and top with mozzarella and continue to bake for another 10 to 15 minutes. Note: If lasagna has been refrigerated, bake for 40 minutes total.