Angel Biscuits
By
Paula Deen
JUMP TO RECIPE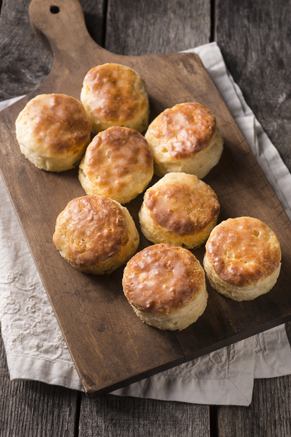 Difficulty: Easy
Prep time: 30 minutes
Cook time: 12 minutes
Servings: 24
Ingredients
1/2 cup (100 °F to 110 °F) warm water
1 envelope (1/4 oz) active dry yeast
5 cups plus extra for dusting all purpose flour
2 tablespoons sugar
1 tablespoon baking powder
1 teaspoon baking soda
1 teaspoon salt
3/4 cup chilled vegetable shortening
2 cups buttermilk
Directions
Preheat the oven to 400 °F. Grease a baking sheet with butter, oil, or cooking spray.
Sprinkle the yeast over the lukewarm water in a small bowl. In a large bowl, mix together the flour, sugar, baking powder, baking soda, and salt. Cut in the shortening with a pastry blender, your hands, or two knives until the mixture resembles a coarse meal. Add the yeast mixture and buttermilk and mix well.
Sprinkle a small handful of flour over a work surface. Turn the dough onto the floured surface and roll out to a 1-inch thickness.
Using a 2 1/2 €"inch round biscuit cutter, cut the dough into biscuits. Gently reroll the scraps and cut out more biscuits. Place the biscuits on the prepared baking sheet and bake until light golden brown and firm to the touch, about 12 minutes. Serve warm or at room temperature.