Bert's Southern Fried Chicken
By
Paula Deen
JUMP TO RECIPE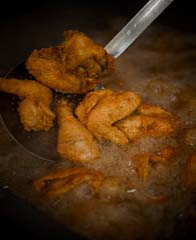 Difficulty: Medium
Prep time: 3 hours and 10 minutes
Cook time: 30 minutes
Servings: 4 to 6 servings
Ingredients
1 (3 lb) washed and cut into 8 serving pieces chicken
2 cups or self-rising all purpose flour
3 eggs
1/3 cup milk
for frying peanut oil
Directions
Liberally sprinkle each piece of chicken with salt and pepper several hours before cooking. Place it in a dish, covered with plastic wrap, in the refrigerator.
Place the flour in a plastic kitchen storage bag. When ready to cook, beat the eggs with the milk. Dip the chicken pieces into the egg mixture, then place each piece in the bag. Shake until chicken is coated. Set the floured chicken on a plate while you heat the oil. Pour enough oil into a cast-iron skillet to come only about halfway up the sides of the pan. This is important, as the oil rises when each piece of chicken is added.
Turn the heat to medium high; test by adding a drop of water to the oil. If it sizzles, the oil is ready; this takes about 4 to 5 minutes. Place about 4 pieces of chicken into the hot oil. Allow to cook on the first side about 8 minutes, and on the second about 6 minutes, until brown and crispy. Pieces with large bones, the legs and thighs, may need an additional minute per side to get completely done. Remove the chicken from the oil and drain well on brown paper bags. Cook the second batch of chicken.
Wrap tightly in aluminum foil to keep warm or place in aluminum pans with parchment paper between layers of chicken.
Cook's Note: Be careful not to let the oil spill out while the chicken is frying; it can cause serious burns or cause a grease fire if the grease lands on a gas flame or electric cooktop.