Skinny Berry Trifle
By
Paula Deen
JUMP TO RECIPE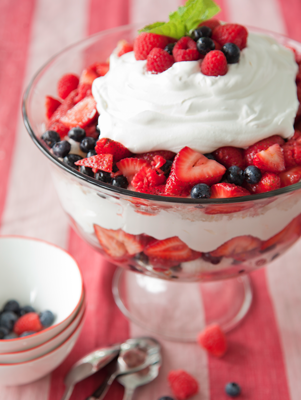 Difficulty: Easy
Prep time: 10 minutes
Cook time: 10 minutes
Servings: 10
Ingredients
1 1/2 lbs hulled and sliced strawberries
1 (6 oz) container blueberries
1 (6 oz) container raspberries
1 juiced, plus the zest orange
1 cup granulated sugar
1 (17 oz) cut into chunks angel food cake
1 quart fat-free, sugar-free whipped topping
1 bunch for garnish mint
Directions
Toss together the berries, orange juice and sugar in a medium bowl. Cover with plastic wrap and let sit out at room temperature for 30 minutes, until the berries are nice and juicy.
Add a third of the angel food cake to the bottom of a trifle dish.
Next add a layer of berries, then a layer of whipped topping. Repeat the layers two more times.
Finish the top with the last few spoonfuls of whipped topping and add a heaping pile of berries in center. Garnish with a sprig of mint.