Pretzel Peanut Bark
By
Paula Deen
JUMP TO RECIPE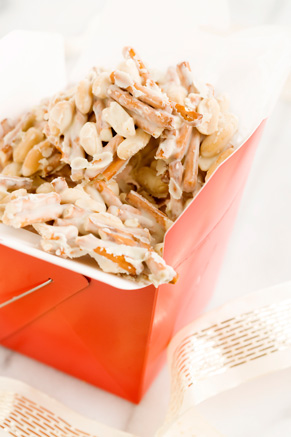 Difficulty: Easy
Prep time: 10 minutes
Cook time: 10 minutes
Servings: 10
Ingredients
3 cups broken into small pieces but not crushed, then measured skinny pretzel sticks
18 (1 oz each) squares white chocolate
2 cups dry salted peanuts
Directions
Line a rimmed cookie sheet with parchment or waxed paper.
Melt the chocolate in a double boiler over simmering water until smooth, or melt in the microwave in a 2 quart glass dish. Microwave on high (100%) for 1 minute, stir, and microwave on high for 1 minute more. If necessary, microwave on high for 10 seconds more, and stir until the chocolate is melted and smooth. Stir in the pretzel pieces and peanuts. Stir well with a flexible spatula.
Spoon onto the prepared cookie sheet, spreading the mixture out so that ingredients are relatively evenly distributed.
Allow for the chocolate to cool for several hours or refrigerate for about 45 minutes, until firm. Break the bark into irregular pieces, like peanut brittle. Store in cookie tins, or package in Chinese food take-out cartoons lined with waxed paper.