Wicked Candy Bar Halloween Cupcakes Recipe
By
Paula Deen
JUMP TO RECIPE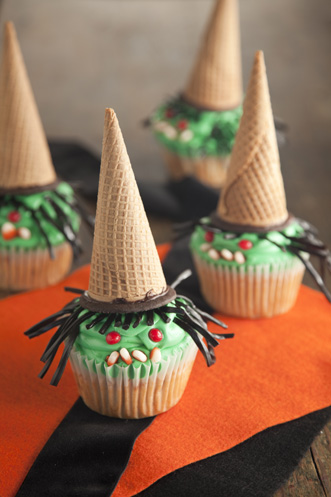 Make this kid-friendly Halloween cupcakes recipe for your next Halloween party. Kids will love these witchy treats because the ingredients include some of their favorite Halloween
Show more
Make this kid-friendly Halloween cupcakes recipe for your next Halloween party. Kids will love these witchy treats because the ingredients include some of their favorite Halloween treats—Milky Way candy bars and black licorice laces.
Difficulty: Medium
Prep time: 60 minutes
Cook time: 18 minutes
Servings: 15
Ingredients
8 fun-size Milky Way candy bars , divided
3/4 cup plus 5 tablespoons, divided unsalted butter
1 1/4 cups all purpose flour
1/4 teaspoon baking soda
1/2 teaspoon salt
3/4 cup sugar
1 large egg
1/2 cup plus 2 tablespoons buttermilk
1/2 teaspoon vanilla extract
2 (4 oz) bars chopped semi-sweet chocolate
15 chocolate wafer cookies
15 sugar ice cream cones
2 cups confectioner's sugar , sifted
green food coloring
black licorice laces
30 red cinnamon candies
candy corn
Directions
Cupcakes
Preheat oven to 350 °F. Place 15 paper baking cups in muffin pans (fill any empty cups half-full with water), and set aside.
Melt 5 candy bars and 2 tablespoons butter in a heavy saucepan over low heat, stirring until smooth. Let cool.
In a small bowl, whisk together flour, soda, and salt.
Cream together the sugar and 1/4 cup plus 2 tablespoons softened butter in a large mixing bowl at medium speed with an electric mixer until well blended. Add egg, beating just until blended.
Gradually add flour mixture to sugar mixture, alternately with buttermilk, beginning and ending with flour mixture. Beat at low speed just until blended after each addition. Beat in melted candy bar mixture and vanilla. Spoon batter evenly into baking cups, filling two-thirds full.
Bake until a wooden pick inserted in centers comes out clean, about 18 minutes. Remove from pan, and let cool completely on wire racks.
Witch Hats
Place chopped chocolate in a microwave-safe bowl. Microwave at medium power for 2 minutes or until soft; stir until smooth.
Place wafer cookies on a rimmed baking sheet. Using a small paint brush, paint a thick layer of chocolate around bottom edges of cones. Center bottoms of cones on cookies. Refrigerate until set, about 15 minutes.
If necessary, microwave remaining chocolate on medium power for 30 seconds to thin. Paint outsides of cones with melted chocolate, and refrigerate until set, about 20 minutes.
Witchy Dirty Green Buttercream
Place 1 tablespoon of the butter and 3 candy bars in a microwave-safe bowl; microwave at medium power for 2 minutes or until soft. Stir until smooth.
Beat the remaining softened butter (1/2 cup plus 2 tablespoons) until creamy in a medium mixing bowl with an electric mixer. Add the sugar and warm melted candy mixture; beat until smooth and fluffy. Beat in 6 drops green food coloring until blended.
To Decorate
Frost tops of cooled cupcakes with a thick layer of frosting. Refrigerate until frosting is firm, if desired, about 15 minutes.
Top each cupcake with a Witch Hat. Cut licorice sticks into 1/2-inch and 2-inch lengths; place short sticks under hat for bangs and long sticks under hats for hair. Place cinnamon candies on cupcakes for eyes and candy corn for teeth. Makes 15 cupcakes.