Un-Stuffed Cabbage Soup With Meatballs
By
Paula Deen
JUMP TO RECIPE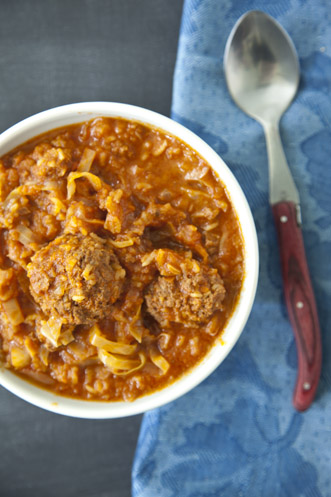 Difficulty: Easy
Prep time: 30 minutes
Cook time: 60 minutes
Servings: 8
Ingredients
2 lbs ground meat (your favorite blend of veal, pork and beef)
1 cup rice, uncooked
1 tablespoon salt, plus more for seasoning
1 teaspoon freshly ground black pepper, plus more for seasoning
1/4 teaspoon ground cumin
2 tablespoons (about 3 cloves) garlic, minced
2 tablespoons olive oil
1 cup coarsely minced onion, plus 1/2 onion, minced, for meatballs
1 cup carrots, thinly sliced
1 cup tomato paste
1/2 cup brown sugar
1/2 cup ketchup
1 (28 oz) can whole peeled tomatoes with juice
1 medium cabbage
1 bay leaf
1/2 cup fresh lemon juice
1/2 cup golden raisins
Directions
For the meatballs: In a large bowl, combine the ground meat, rice, salt, pepper, cumin and 1/2 onion, minced. Form into 1-inch balls and set aside while you make the soup.
For the soup: In a 6-quart pot, sweat the garlic in the olive oil until white in color. Add 1 cup minced onions and sweat until translucent. Then add 1 1/2 cups water, the carrots, tomato paste, brown sugar, ketchup and whole tomatoes with juice. Season with salt and pepper and simmer at a lively bubble for 10 minutes. Crush the whole tomatoes with a potato masher or fork. Continue to simmer until the carrots are tender, about 10 more minutes.
Working in batches, transfer the soup to a blender and blend until smooth but not pureed. Return the soup to the pot. Remove the cabbage ribs and cut the leaves crosswise into 1/4-inch ribbons. Add the cabbage to the soup and stir to incorporate. Add the bay leaf and simmer over medium-high heat for 10 minutes more (the cabbage should be reduced in size). Add water to thin the soup to the desired consistency. Add the meatballs and simmer for 25 minutes. Add the lemon juice and raisins 10 minutes before serving.
Ladle the soup into bowls and garnish with sour cream and dill.