Deen Bros Lighter Un-Fried Chicken
By
Deen Brothers
JUMP TO RECIPE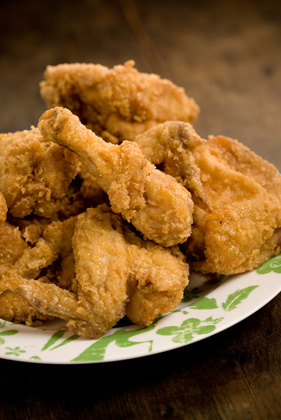 Difficulty: Easy
Prep time: 10 minutes
Cook time: 45 minutes
Servings: 8 servings
Ingredients
8 skinless boneless chicken thighs
1/2 teaspoon Paula Deen's House Seasoning
1/4 cup light mayonnaise
Zest and juice of 1 lemon
1 egg white
1/2 teaspoon hot sauce
1 1/4 cups cornflake crumbs
Directions
Preheat the oven to 375 degrees. Spray a large shallow baking pan with nonstick spray.
Sprinkle the chicken with the House Seasoning. In a large bowl, combine the mayonnaise, lemon zest, juice, egg white, and hot sauce. Add the chicken; toss to coat.
Place the cornflake crumbs on a sheet of wax paper. Dip the chicken into the crumbs pressing so the crumbs adhere. Place the chicken in the pan and lightly spray with nonstick spray.
Bake until the chicken is golden brown and cooked through, 40 to 45 minutes. Do not turn.