Roast Prime Rib of Beef with a Rich Pan Sauce
By
Paula Deen
JUMP TO RECIPE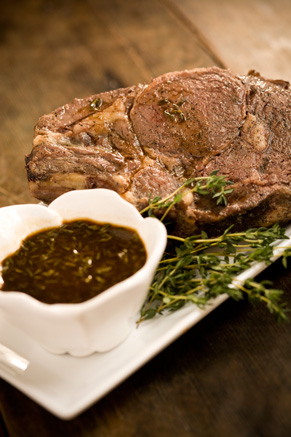 Difficulty: Easy
Prep time: 15 minutes
Cook time: 165 minutes
Servings: 12
Ingredients
12 lb prime rib roast
2 tablespoons Paula Deen's House Seasoning
2 cups beef stock or canned broth
1 sprig fresh thyme or 1/2 teaspoon of dried thyme
2 tablespoons Paula Deen Merlot Wine Steak Sauce
salt, to taste
black pepper, to taste
Directions
Preheat oven to 425 °F.
Rub the roast with the Paula Deen House Seasoning. In a roasting pan, place the roast, fat side up, so the ribs act as a rack. Roast for 30 minutes and reduce heat to 350 °F. Continue to roast for 2 hours or until the internal temperature on a meat thermometer registers your desired doneness. Transfer to platter and let rest for 15 minutes.
While roast is resting, prepare pan sauce. Skim off the fat from the pan drippings. place the roasting pan over medium heat and add the stock and thyme. Bring to a boil and simmer for 5 minutes.
Whisk in the Paula Deen Merlot Wine Steak Sauce. Salt and pepper to taste. Serve warm alongside the prime rib roast.
Note: Medium rare 140 °F, Medium 150 °F, Well Done 160 °F.