Asparagus with Lemon Pecan Brown Butter
By
Paula Deen
JUMP TO RECIPE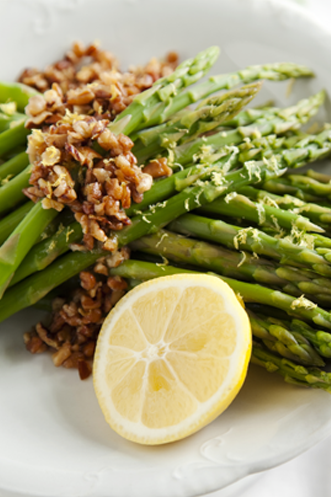 Difficulty: Easy
Prep time: 10 minutes
Cook time: 15 minutes
Servings: 4
Ingredients
1 1/2 lb trimmed and tough ends peeled asparagus
6 tablespoons cut into bits unsalted butter
1/2 cup pecans
1 zest removed in fine julienne with a bar zester, cut in half lemon
Directions
Put 1 inch of water in a skillet or other wide, shallow pan that will hold the asparagus flat in no more than 2 layers. Cover and bring to a boil over high heat. Add a small handful of salt and, as soon as the water is boiling again, add the asparagus. Cover, bring it quickly back to a boil, and remove the lid. Cook briskly, uncovered, until the asparagus is barely tender but still bright green, about 3-4 minutes. Turn off the heat, immediately drain, using the lid to hold the asparagus. Turn it out onto a warm platter and keep warm.
Put 4 tablespoons of butter in 9-or-10-inch skillet over medium high heat. When melted, add the pecans and saute, tossing frequently, until the butter and pecans are a uniform golden-brown. Add the lemon zest and the juice from half the lemon. Cook for half a minute longer and remove the pan from the heat.
Swirl in the remaining butter, refresh with another squeeze of lemon juice, taste and add salt if needed. Pour it evenly over the asparagus and serve at once.