Cheddar and Bacon Twice Baked Potatoes
By
Deen Brothers
JUMP TO RECIPE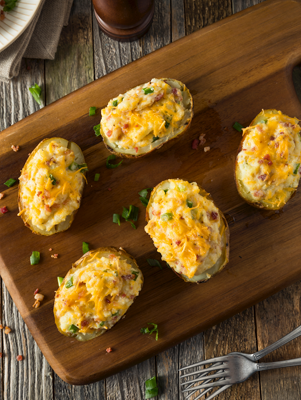 Difficulty: Easy
Prep time: 20 min
Cook time: 1 hour 50 min
Servings: 6
Ingredients
8 slices bacon
6 large russet potatoes
Olive oil
Kosher salt
4 ounces grated sharp Cheddar 1 cup
4 green onions
1/2 cup sour cream
6 tablespoons unsalted butter
Freshly ground black pepper
Directions
Preheat the oven to 375 degrees F.
Lay the bacon on a baking sheet and bake until crisp, about 25 minutes. Remove from the baking sheet to a paper-towel-lined plate. Crumble once cooled.
Place the potatoes on a baking sheet. Drizzle lightly with olive oil and sprinkle with salt. Bake the potatoes until crisp on the outside and completely cooked through, about 1 hour. Remove from the oven and let cool for 5 minutes. Lower the oven temperature to 350 degrees F.
Use a paring knife to cut a canoe shape from the top of each potato. Discard the top. Use a small spoon to remove the flesh from the potatoes to a bowl, leaving a 1/4-inch shell.
Reserve a small sprinkling of the cheese, bacon, and green onions.
Mash the potatoes with the sour cream, butter, cheese, green onions, and some salt and pepper, then fold in the bacon. Add the potato filling evenly back to the skins, dividing equally. Sprinkle each potato with the reserved cheese, bacon, and green onions. Place each potato back on the baking sheet and bake until heated through and golden, about 25 minutes.