Rich Chocolate Crème Brûlée
By
Paula Deen
JUMP TO RECIPE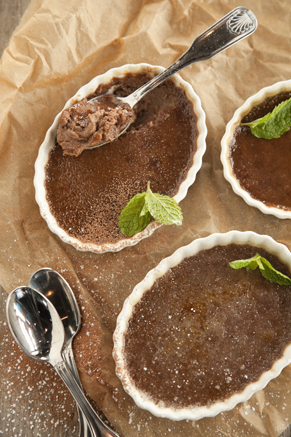 Difficulty: Medium
Prep time: 8 hours
Cook time: 60 minutes
Servings: 6 to 8
Ingredients
3 cups heavy whipping cream
3/4 cup plus 2 tablespoons sugar
1 (1 oz) square unsweetened chocolate, chopped
2 1/2 tablespoons chocolate flavored liqueur
1 tablespoon plus 1 1/2 teaspoons unsweetened cocoa powder
1 1/2 teaspoons vanilla extract
8 egg yolks
Directions
Preheat the oven to 300 °F.
In a medium saucepan, combine the cream, 3/4 cup sugar, the chocolate, liqueur, cocoa and vanilla. Cook over medium-low heat, stirring occasionally, until bubbles form around the edges of the pan. Remove from the heat, and set aside.
In a large bowl, whisk the egg yolks until just combined. Gradually add some of the hot cream mixture into beaten egg yolks, to temper. Whisk the egg mixture into the remaining hot cream mixture, stirring constantly. If lumps form, pour the mixture into a bowl through a fine wire-mesh strainer. Evenly divide the mixture into 6 to 8 flameproof ramekins. Arrange the ramekins in a 13 by 9-inch baking dish, and fill the dish with 1 1/2 inches hot water. Bake until the custard has set and is firm, about 30 to 45 minutes. Let cool on wire racks, then wrap in heavy-duty plastic wrap and chill at least 6 to 8 hours.
Sprinkle each custard evenly with a little of the remaining 2 tablespoons sugar. Broil 5 1/2 inches from heat until sugar melts and becomes a caramel color. Remove the custards from the oven and let stand for 5 minutes to allow the sugar to harden. Sugar may also be browned with a professional culinary torch.