Chocolate Bread
By
Paula Deen
JUMP TO RECIPE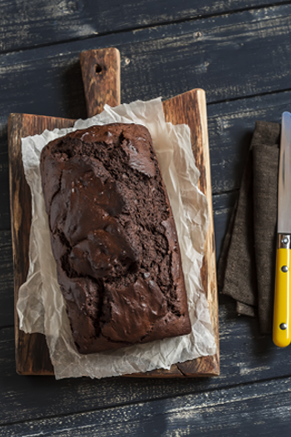 Difficulty: Easy
Prep time: 50 minutes
Cook time: 1 hour 15 minutes
Servings: 2 loaves
Ingredients
2 1/4 cups all purpose flour
2 cups sugar
3/4 cup unsweetened cocoa powder
1 1/2 teaspoons baking powder
1/2 teaspoon salt
1 1/2 cups milk
1 cup vegetable oil
3 large eggs
1 teaspoon vanilla extract
2 cups semisweet chocolate morsels
1 1/2 cups chopped pecans
1/2 cup softened butter
2 tablespoons hot fudge topping
Directions
Preheat oven to 325 degrees F. Butter and flour (2) 9 by 5-inch loaf pans.
In a large bowl combine the flour, sugar, cocoa, baking powder, and salt. Beat in the milk, oil, eggs, and vanilla at medium-low speed with an electric mixer until combined. Beat in the chocolate morsels and pecans. Spoon the batter evenly into the prepared pans. Bake until a wooden pick inserted in center comes out clean, about 1 hour to 1 hour and 15 minutes. Shield the bread with aluminum foil to prevent excess browning. Let cool in the pans for 10 minutes. Remove the bread from the pans and cool completely on a wire rack. Serve with rich Chocolate Butter, if desired.
Chocolate Butter:
In a small bowl, beat the butter and fudge topping at medium speed with an electric mixer until creamy. Cover, and refrigerate. Let stand at room temperature for 30 minutes before serving.