Chocolate Bread Pudding With Rum Toffee Sauce
By
Paula Deen
JUMP TO RECIPE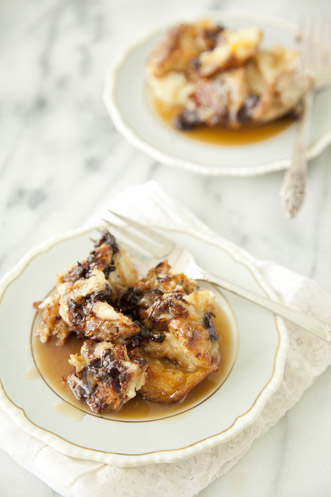 Difficulty: Medium
Prep time: 20 minutes
Cook time: 1 hour 10 minutes
Servings: 8-10
Ingredients
1 loaf cut into 1-inch cubes Hawaiian bread
2 3/4 cups divided heavy whipping cream
2 cups whole milk
1 cup plus 2 tablespoons, divided sugar
2 1/2 sticks divided, 1/2 stick melted butter
4 large eggs
8 (1 oz) squares finely chopped semi-sweet chocolate squares
1 cup chopped pecans
2 cups firmly packed brown sugar
3/4 cup dark rum
1 teaspoon vanilla extract
Directions
Preheat the oven to 350 °F. Lightly grease a 13 by 9-inch baking dish.
Add the bread cubes to a large bowl.
In a medium bowl, whisk together 1 1/2 cups of the cream, the milk, 1 cup sugar, 1/2 stick melted butter and eggs. Add the cream mixture to the bread cubes, stirring to combine. Let stand for 15 minutes. Stir in the chocolate and pecans. Spoon the mixture into the prepared baking dish. Drizzle with 1/2 cup cream and sprinkle with remaining 2 tablespoons sugar. Bake until the center is set, about 1 hour. Serve with Rum Toffee Sauce.
Rum Toffee Sauce:
In a medium saucepan, combine the brown sugar and 2 sticks butter. Bring to a boil over medium heat. Reduce the heat, stir in the 3/4 cup cream and rum and simmer for 4 minutes. Remove from heat, and stir in vanilla. Let cool. The sauce can be stored, covered, in the refrigerator for up to 2 weeks.
Yield: about 3 cups