Quick Cloverleaf Rolls
By
Paula Deen
JUMP TO RECIPE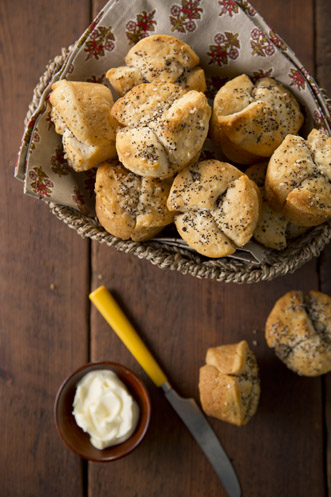 Difficulty: Easy
Prep time: 30 minutes
Cook time: 20 minutes
Servings: 8
Ingredients
refrigerated jumbo biscuits
1 stick butter, melted
1 teaspoon kosher salt
1 teaspoon ground black pepper
1 teaspoon onion flakes
1 teaspoon poppy seeds
1 teaspoon sesame seeds
Directions
Preheat the oven to 350 °F. Spray a 16-cup muffin pan with nonstick cooking spray.
Using kitchen scissors, cut the biscuits into fourths. Pour the melted butter into a small bowl. Dip each biscuit piece in the butter, and place 3 pieces in each muffin cup.
In another small bowl, combine the salt, pepper, onion flakes, poppy seeds and sesame seeds. Sprinkle the seasonings over the tops of the biscuits. Bake until golden brown, about 20 minutes. Serve immediately.