Re-Fashioned Turkey Meatloaf
By
Bobby Deen
JUMP TO RECIPE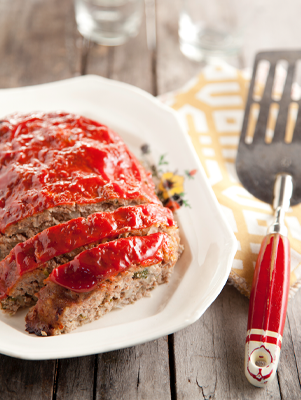 Difficulty: Easy
Prep time: 25 minutes
Cook time: 60 minutes
Servings: 8
Ingredients
1 medium head cauliflower, cut into small florets
1/2 cup chicken broth
1 small onion, chopped
3 cloves garlic, chopped
1 1/2 lbs (85% lean) ground turkey
1/4 cup parsley, chopped
1/2 cup quick cooking oats
2 tablespoons Parmesan cheese, grated
kosher salt, to taste
black pepper, to taste
1/3 cup ketchup
1 tablespoon dijon mustard
Directions
Preheat oven to 350 °F. Cover a sheet tray with foil. Add the cauliflower florets to a small saucepan and cover with the chicken broth. Cover the pot with a lid. Simmer until tender. Add cauliflower to a food processor along with chicken broth. Blend until smooth, scraping sides of blender as necessary. Let cool. The cauliflower will thicken as it cools down.
Add onion, garlic, cooled pureed cauliflower, turkey, salt, pepper, parsley, quick cooking oats and Parmesan cheese to a large bowl.
Mix all meatloaf ingredients well. Shape into a loaf on the prepared sheet tray.
In a small bowl, mix together the ketchup and mustard and brush on top of the loaf. Bake for 45 minutes to 1 hour, until cooked through. Rest for 5 minutes before slicing.