Fried Bacon Mashed Potatoes
By
Paula Deen
JUMP TO RECIPE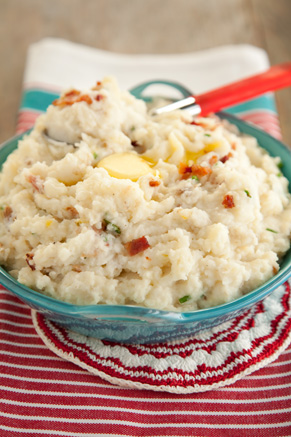 Difficulty: Easy
Prep time: 15 minutes
Cook time: 15 minutes
Servings: 15
Ingredients
3 lbs peeled and cut into 1-inch cubes Yukon Gold potatoes
kosher salt
6 tablespoons divided butter
1 finely minced shallot
1 1/2 cups heavy cream
1/2 cup sour cream
4 pieces cooked and crumbled bacon
3 tablespoons chopped 1 tablespoon reserved, for garnish fresh chives
1 oval loaf toasted artisanal whole-wheat country bread
Directions
Place the potatoes into large pot and cover with cold water. Salt generously. Bring to a boil, then lower the heat and simmer uncovered for roughly 13 minutes, or until the potatoes are fork tender.
While the potatoes are boiling, melt 1 tablespoon of butter into a saucepot. Add the minced shallot and saute until soft. Add the cream and rest of the butter, being sure not to bring to a boil.
Drain potatoes in a colander. Return to pot and mash with a potato masher. As soon as they are mashed slowly add in the hot cream and butter. Stir slowly and do not overwork or the potatoes will be heavy. Add the sour cream and the bacon and fold in the chives. Add salt and pepper, to taste.
Cut a round in the top of the bread. Pull off and remove top, reserve. Pull out all of the soft bread inside. Be careful not to take out too much, as you want this to be a serving vehicle for your mashed potatoes.
Place potatoes in bread and garnish with chives.