Quick Brined Pork Chops
By
Paula Deen
JUMP TO RECIPE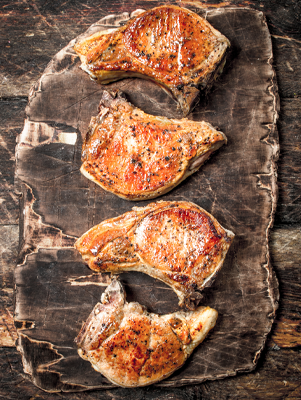 Featured in:
Paula Deen Cuts the Fat
Difficulty: Medium
Prep time: 40 minutes
Cook time: 10 minutes
Servings: 4
Ingredients
¼ cup Salt
1 tablespoon light brown sugar
4 bone-in center-cut pork chops (1 inch thick, about ½ pounds each)
freshly ground black pepper, to taste
¼ teaspoon garlic powder
½ teaspoon dried oregano
2 tablespoons Canola oil
Directions
In a medium saucepan, make the brine by combining the salt, brown sugar, and 2 cups water. Stir over medium-high heat just until the salt and brown sugar have dissolved. Remove the pan from the heat and stir in a handful of ice to cool down the brine quickly. This should bring the brining solution up to about 2 ½ cups.
Place the pork chops in a baking dish just large enough to fit them snugly and pour the cooled brine over so that they are completely submerged. Cover with plastic wrap and place in the refrigerator for 30 minutes. If there are any parts of the chops that are not fully covered by the brine, turn the chops halfway through the brining time.
Remove the chops from the brine and discard the brine. Pat the chops dry with a paper towel and lightly sprinkle them on both sides with salt and pepper, the garlic powder, and oregano. In a large skillet, heat the oil over medium-high heat. Add the chops and cook, without moving, until a dark golden crust forms on the bottom of each, about 5 minutes. Flip the chops and cook for 5 minutes more. Remove from the heat and let rest while you prepare a fresh salad to serve alongside.